Welcome PTA Leaders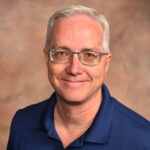 Welcome to Fifth District PTA, serving the children and families in San Bernardino County since March 12, 1913. For over 109 years, PTA/PTSA leaders have been positively impacting the lives of all children and families. 
In those 109 years, there's no doubt that our leaders have overcame challenges and moved forward.  Together, we can overcome our latest challenges and grow into an even more successful organization.  
My name is Ray Kinyon and I'm your Fifth District PTA President until June 30, 2023.  We have an amazing team who is here to be your resource for anything you need. 
I know there are a lot of rock-star PTA leaders out there and we look forward to working with you, your school administration and local communities.  
I feel communication is of utmost importance.  Timely communication to and from our leaders will ensure we all have the latest information. Some of the tools we will use is email, website, Facebook, Instagram, Twitter, and Band.  Be sure to like and follow us. Please ensure you check your email frequently and visit our website and other social media platforms often.  
Please don't hesitate to contact us directly by visiting our "Board Members" web page.  Here you will be able to send us a message by completing the contact form. We want to hear your suggestions, issues and what's happening at your PTA/PTSA association.
I look forward to speaking to many of you over the next several months and we look forward to serving you for the next year.