Reflections Awards Event – Cancelled
Due to current COVID19 concerns, all large public gatherings and events must be canceled, per the
attached guidelines
.  This includes our Reflections event scheduled for Wednesday, April 8, 2020.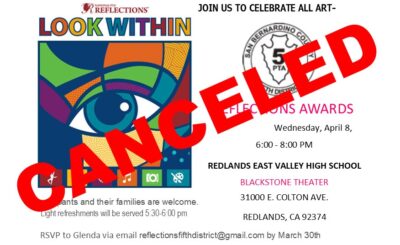 All facilities will be closed, meaning that your students' awards will be coming home with your Reflections Chairperson or Council President at a later date.
We apologize for the inconvenience and we hope you stay healthy.
Thank you for your understanding.
Respectfully,
Glenda Montecino
Fifth District PTA Reflections Chairperson